HANDHELD DIGITAL INDICATORS
Thermocouple Probes
Application
Description
Configuration
Model No.
Liquids/Air
to 1500°C
Immersion Probe
A general purpose immersion sensor with grounded junction for fast response. Stainless steel sheath. For use with Marlin Model HP-X or HP-R probe extension.

HP-1-( * )
Liquids/
Semi-solid
to 300°F
Piercing Probe w/Handle
Sharp, tapered-tip stainless steel sensor for measuring semi-solid materials, such as meats, plastics and rubber. Mounted. For use with Model Hp-X or HP-R probe extension.
HP-2-( *)
Air/Gas
to 1200°F
Air Probe
Exposed junction air sensor with radiation protection shield. Suitable for all air/gas measurements. For use with Model HP-X or HP-R probe extension.
HP-3-( * )
Surface
to 500°F
Heavy Duty Surface Probe w/Swivel Tip
Accurate, fast response for surface measurements of hot plates, molds, etc. to 500°F. For use with Model HP-X or HP-R probe extension. Patent No. 3504544.
HP-4-( * )
Surface
to 750°F
Band-Type Surface Probe
Accurate, fast response for convex static surface measurements of cylinders or rolls to 750°F. For use with Model HP-X or HP-R probe extension. Available in Type K, J, E.
HP-5-( * )
Armored
Probe
Extension
Armored Extension Cable
48" of SS flex armor protected T/C wire with mini jack, to plug into probe handle and mini plug for instrument connection.
HP-X-( * )
Retractable
Probe
Extension
Retractable Extension Cable
12" of retractable extension that can extend to 5 ft. with mini jack, to plug into probe handle and mini plug for instrument connection.
HP-R-( * )
Liquids
Penetration
to 600°F
Hypodermic Probe
Small diameter piercing probe with grounded knife edge tip for laboratory measurements.
HP-7-( * )
Surface
to 1500°F
Attachable Sensor
Small metal disc sensor for securing to fixed surfaces. Supplied with 72", 24 gauge leadwire and mini-connector.
HP-8-( * )
0.1°/1° Auto-Resolution
°F/°C Switchable
Compatible with Nine Temperature Sensor Types
Switch Selectable (T/C and RTD)
Repeatable to 1 Count
Alarm Option
Multi-Channel Option
Digital Indicators-Model 500-High Quality, Small Size, 1/8 DIN
The Model 500 is designed for a variety of temperature measuring applications. Excellent accuracy and its small size combine to make it the ideal choice for most industrial temperature indications.
The 500 features a unique 0.1° or 1° automatic resolution. For temperature measurements below 1000°, the instrument displays to a 0.1° resolution. Crossing over 1000°, the instrument automatically switches to a 1° resolution. Thermocouple types R, S and B only display in 1° increments. For any application where a 1° resolution is desired for everything, the unit can be set to display only 1° increments throughout its measuring range.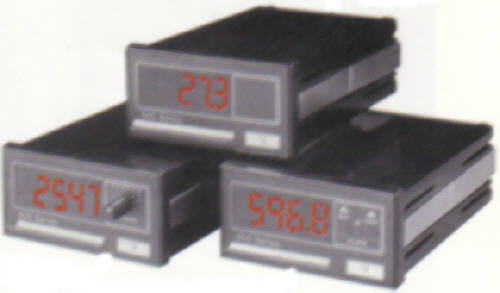 For ease of installation, each instrument is supplied in a standard 1/8 DIN (48 mm x 96 mm) plastic case and has rear-accessible universal screw terminals. Large LEDs make temperature readings easy to see and read, even from a distance. Power is derived from 115 or 230 VAC. Power is selectable via an internal slide switch.
Select between nine temperature sensors of thermocouple types J, K, T, E, R, S and B or 100 Ohm 3-wire, Platinum RTDs, either 0.00385 or 0.00392 alpha. Each of these nine are selected via a miniature rotary switch located directly behind the snap-off front lens. Another miniature DIP switch, also behind the lens, selects between °F or °C display.
Model 500 Options:
The Model 500 accommodates one of two avaailable options. Either option can be specified at time of initial order or can be easily installed at some future date
Alarm Setpoint:
The alarm option provides a single limit setpoint that can be set to any point, + or -, within the 500 measuring range. The user digitally sets the setpoint via two buttons located on the front panel.
Selection of "HIGH" or "LOW" Alarm is set via a jump-jack located on the option card. Once the setpoint is set, it may be reviewed for its actual value by depressing the "view" button. A front panel LED illuminates when the alarm trips.
The Alarm Setpoint option card also includes a Form C, 0.5A relay for hook-up to external lamps, buzzers or on/off control elements. Relay terminals are accessible at the rear of the instrument and provide hook-up for Normally Open or Normally Closed Operation.
Order Option: Model 500-ALM
Multiple Inputs :
The cost of measuring multiple temperature sensors can be cut using the 500's ability to switch between up to six sensor inputs with its multi-input option. All input types contained in the 500 (thermocouple or RTD) can be switched, but they must all be of the same type (e.g., Type K Thermocouple).
A miniature rotary switch, accessible at the front lens, allows convenient switching between inputs. Sensor hook-up is to a snap-on/off terminal block located at the rear of the instrument.
Order Option: Model 500-206
Model 500 Accessories:
The Rack Adapter Plate permits easy mounting of Model 500 Indicators in standard 19″ instrument racks. Four versions are available for mounting 1, 2, 3 or 4 indicators.
Order Accessory:
RKS1 for 1 cutout
RKS2 for 2 cutouts
RKS3 for 3 cutouts
RKS4 for 4 cutouts
Model 500 General Specifications
Repeatability:
11 Count
Stability with Temperature:
Zero, 1uV/°C; Span, 0.01%rdg/°C; Thermocouple Reference Junction, internal, automatic, 0.03°C/°C, 5° to 45 °C
Break Detection:
upscale, approx. 50nA
Stability with Time:
1°/year
Noise Rejection:
NMRR, 60dB @50/60Hz, +/-0.1Hz; CMRR, 120 dB @ 50/60Hz, +/-0.1Hz with 250 ohm unbalance
Overload Protection:
power lead to ground, 1500 VDC or VAC RMS; across inputs, thermocouple model, T/C up to 250 VDC or VAC for 1 minute, V+ to V-; RTD up to 62 VDC or VAC for 1 minute, V+ to I-
Input Impedance, Thermocouple:
20M-Ohms, exclusive of break detect current effects
Input Impedance, RTD:
16.9k-Ohms, V+ input; 16.9k-Ohms,
I input
RTD Leadwire Error:
at 150 uA excitation current; 40 milliohms per ohm of equal resistance in V+ and V- leads, 1 Ohm per ohm of unbalance in V+ and V- leads
Point Update Rate:
2 per second nominal, 1° readings; 1 per second nominal, 0.1° readings
Display:
7-segment red/orange LED, 0.56"H (14.2mm)
Environmental Ranges:
operating, 5° to 45°C;
storage, -40° to +65°C;
humidity, </+80%RH non-condensing
Multi-Input Option Accuracy:
add +/-0.5°C/+/-1°F to instrument accuracy specification
Alarm Relay Contact


Rating:
0.5A @ 120VAC (non-inductive load) Form

C
Case Construction:
one piece black plastic
Installation:
secured to panel by U-channel bracket supplied with indicator
Size:
case, 1.57"H x 3.54"W x 5.35"D (40mm x 90 mm x 136mm); bezel 1.89"H x 3.78"W (48mm x 96mm); panel cutout, 1.77"H x 3.62"W (45mm x 92mm)
Weight:
1 lb. (454 grams)
Power:
115/230 VAC +/-10%, 50-60Hz
Warranty:
1 year
Model 500 Ordering Guide
| Base Model | Base Configuration |
| --- | --- |
| Model 500 | 500 Meter, 115/230 VAC power, Type K, °F |
| -ALM | Alarm Option |
| -206 | 6 Channel Selector |
| -RSK 1 cutout | 19" Rack Adapter for 1 Indicator |
| -RSK 2 cutouts | 19" Rack Adapter for 2 Indicators |
| -RSK 3 cutouts | 19" Rack Adapter for 3 Indicators |
| -RSK 4 cutouts | 19" Rack Adapter for 4 Indicators |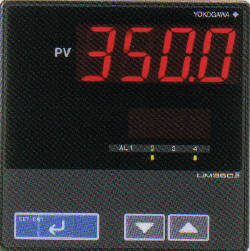 Parameter Setting Display:
Displays parameter item and setpoint.
PV Display:
Displays measured input value (PV) and error code in error occurrence.
Alarm Indicator lamps (AL1 to AL4).
UM330/350 Specification Table

UM330

UM350

PV/Parameter Data Display:

4 digits / 4 digits

PV Input:

1 universal input (TCs, RTDs, mV, V)

Indication Accuracy:

0.1% +/-1 digit

Control Scan Period:

250ms

Analog Output (4 to 20 mA):

1 point (Cannot use with LPS15V)

Loop Power Supply (LPS):

2 points, 15V and 24V (option)

Digital Inputs:

1

Digital Alarm Outputs:

3

RS-485 Communication Protocols:

Four-wire, MODBUS, PC-link, Ladder

Approvals:

General = UL, CE, CSA / Front Protection = IP55

Power Supply, Consumption:

90 to 264 V AC, max. 20VA

Size, Weight:

96(W)*48(H)*100(D)mm, 1 kg
96(W)*96(H)*100(D)mm, 1 kg

Ambient T, Limits RH

0 to 50 °C, 20 to 90%RH
Model and Suffix Codes
Model
Suffix Code
Description
UM330
Digital Indicator with alarms
Type
-0
Standard Type
-3
Standard type with 24 V DC loop power supply
Options
0
None
1
Communication functions, 1 additional alarm
2
1 additional alarm
Model and Suffix Codes
Model
Suffix Code
Description
UM350
Digital Indicator with alarms
Type
-0
Standard Type
-3
Standard type with 24 V DC loop power supply
Options
0
None
1
Communication functions, 1 additional alarm
2
1 additional alarm