FULL SIZE – CONDUIT BOX PANEL
1 to 5 circuits
Color Coded
Molded Channels guide wires for quick, easy connections
Molded of Thermoset Compounds
Standard Rated to 400°F
Hi-Temp. Rated to 800°F
See Catalog No. 1032 (Stripanel®) for Basic Specifications
2-Pole Jack Panel
for Conduit Box
2-Pole Hi-Temp Jack Panel
for Conduit Box
1030-5-(*)
1130-5-(*)
1030-4-(*)
1130-4-(*)
1030-3-(*)
1130-3-(*)
1030-2-(*)
1130-2-(*)
1030-1-(*)
1130-1-(*)
*Specify Calibration Type: J,K,T,N,E,R,S,U
CONDUIT BOX FOR PANEL
(Aluminum)
Marlin Code No.
Description
1040
Conduit Box for 1030 Panels
6 CIRCUIT PANEL W/CONDUIT BOX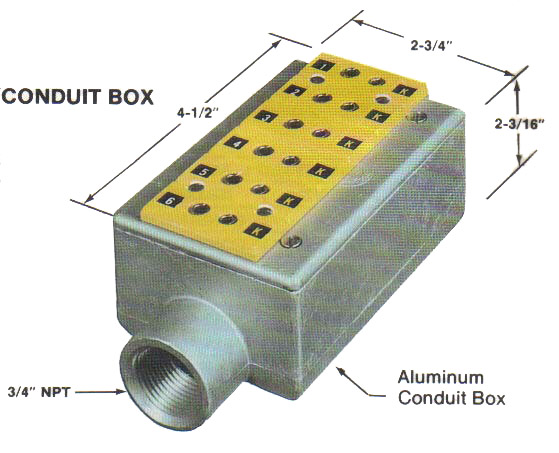 Color Coded
Molded of Thermoset Material
Standard Rated to 400°F
Hi-Temp. Rated to 800°F
See Catalog No. 1032 (Stripanel®) for Basic Specifications
2-Pole 6-Circuit Panel
w/Conduit Box
Hi-Temp 2-Pole 6-Circuit Panel
w/ Conduit Box
1036-6-(*)
(with FS Box)
1136-6-(*)
(with FS Box)
*Specify Calibration Type: J,K,T,N,E,R,S,U
Includes Cover Plate
CONDUIT BOX FOR PANEL
(If Ordered Separately)
Marlin Code No.
Description
1040-6
Conduit Box for 1036-6 Panels
MULTIPLUG & RSC (Round Single Circuit) PANEL
2 to 6 circuits
Color Coded
Molded of Thermoset Compounds
Standard Rated to 400°F
Hi-Temp. Rated to 800°F
See Catalog No. 1032 (Stripanel®) for Basic Specifications
| 2-Pole Multiplug | Hi-Temperature 2-Pole Multiplug |
| --- | --- |
| 1062-2-(*) | 1162-2-(*) |
| 1062-3-(*) | 1162-3-(*) |
| 1062-4-(*) | 1162-4-(*) |
| 1062-5-(*) | 1162-5-(*) |
| 1062-6-(*) | 1162-6-(*) |
*Specify Calibration Type: J,K,T,N,E,R,S,U,C
For Solid Pins use No. 1052-( )-( ) and Hi-Temp with Solid Pins, use No. 1152-( )-( )
RSC PANEL JACK
Single circuit jack designed for mounting into control panels or instrument case can be wired and installed completely from the front. Fits in standard 3/4″ knockout (1 1/8″ diameter). Permanently attached self-fastening device simplifies mounting, holds tight. Patent No. 3046515
Ready for Installation, T-nuts are out of the way at bottom of track.
Screws accessible from the front draw T-nuts up metal track and hold them tight against back wall.
Marlin Code No.
Description
1031-*
RSC 2-Pole Jack Panel
1131-*
Hi-Temp RSC 2-Pole Jack Panel
1095
RSC Mounting Hardware
(If Ordered Separately)
* Specifies Calibration Type: J,K,T,N,E,R,S,U,C
For more information regarding Full Size RSC's & Conduit Panels
Consult your Marlin Catalog.